Around ten years ago when we decided to provide sanitary-pads to our beneficiaries this was quite revolutionary. In 2005 only a few privileged' educated women had the knowledge and the means to afford such a luxury. Moreover pads were only available in the cities, while 80% of Nepal's populations are living in the rural areas.
Old taboos surrounding menstruation die hard in Nepal where, until 2005, chhaupadi, the practice of ostracizing women and girls from their own homes during their period, was not considered a wrongdoing. It was not until 2005 chhaupadi was declared illegal in Nepal. However, the practice still retains a foothold in the country's western region and myths surrounding women's natural cycles remain a national problem.
Chhaupadi, which is based upon the belief that menstruating women are toxic, prohibits menstruating women and girls from inhabiting any public space, socializing with others and using water sources that other peoples share.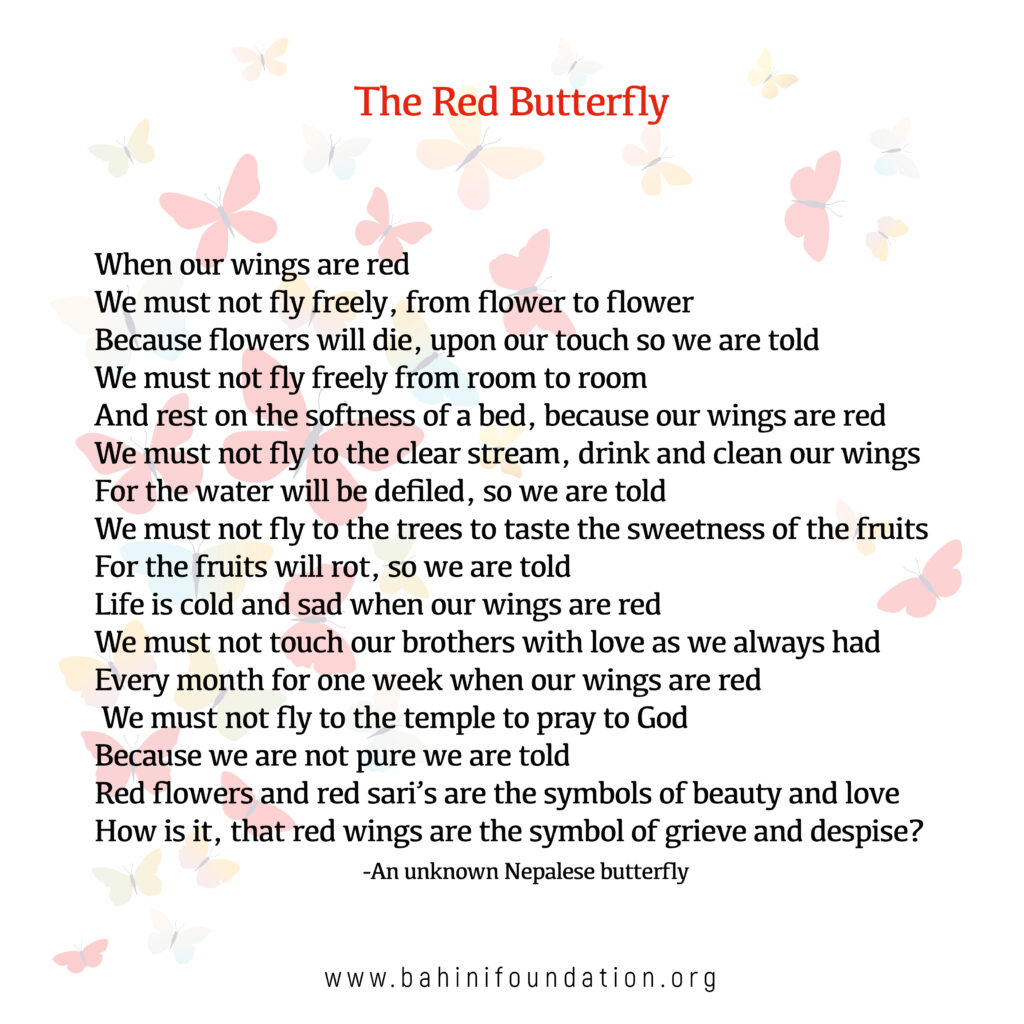 According to tradition, women and girls are also banned from sharing food and touching anyone. Even in regions where chhaupadi is not practiced any longer, taboos surrounding menstruation still affect Nepalese women and girls. The Nepal times reports that today many households in Kathmandu still prohibit menstruating women from entering the kitchen or temples, eating with their family and sleeping on their beds.
Until today, the poor in Nepal, around 65%, are unable to afford the costly sanitary pads. The price for one package of sanitary-pads is rps.70,- the equivalent for one kg rice, which is required to feed one family for one day. Instead the women and girls are using old rags, and many are using the same menstrual product for days, washing them in unclean water sources. It goes without words that this is utterly degrading and a great health-hazard too!
For above mentioned reasons many girls are forgoing school during the time of their menstruation and this constitutes a big disadvantage for them in their education.
We counter act this issue in providing sanitary pads to all our beneficiaries in the Educare Families. For them, around 150 girls and women, the use of sanitary pads have become as natural as the use of a tooth-brush and they no longer hold the belief that they are defiled or unworthy during their period. They are regularly attending the school and they don't feel restricted in any way, just because they belong to the female gender. They have become confident young women and they are breaking with the taboos, the limitations and the humiliation that where forced upon their mothers and female ancestors for many centuries.
We are engaging in providing various Awareness programs for girls and women. We would like to provide this service to many more in need, but we have limited resources and support is needed from potential donors and organizations that are willing to help and engage in the proliferation of this important cause.
We are grateful for any advice, suggestions and support that you are able to provide and we are open to cooperate with any organization that is willing to engage in this important mission.
Despite progress over the last decade, girls and women remain the majority of Nepal's unhealthy, unfed, uneducated, exploited, abused and stunted. We are determined and committed to change this sad and intolerable truth!